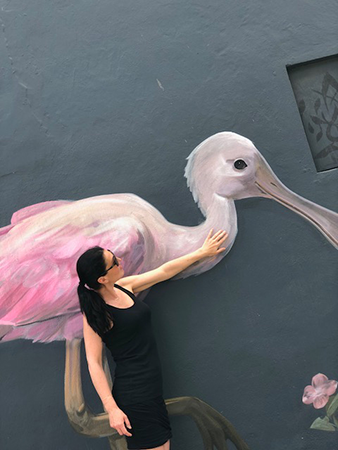 DigitAl Art.
AL for Alexandra pleased to propose you her fine creations entirely designed and realized in France.
ART for the passion entrusted to her by her paternal grandfather, a French painter registered in the Benezit.
METAL for resistance and longevity as her maternal grandfather who has dedicated his life to metallurgy.
Alexandra is Parisian. She lives between Paris the city of Arts full of history and the Alps,gorgeous natural environment, high place of inspiration.
« Cultivate your love of nature because it's the only way to better understand Art ». Vincent Van Gogh
After studying art and communication in Chicago Illinois, Alexandra returned to Paris and explored the world of jewelry. She learned about the materials, the alloy, the stones, the colors, material assembly, conception, handiwork, craftsmanship, the sales and discovered the universe of creators and creations.
It is during a real estate search in Florida that Alexandra visited homes and condos with large volumes and walls ready to be decorated with original unique pieces that she imagined powerful and brilliant artworks whose colors would be in total harmony with the place. Wall plaques presented as decorative art modern style ornamented with Crystals and colorful stones.
Alexandra created AL-ART-METAL to present you models with a unique character customizable and adaptable to your dimensions.
Its emblem is the Gecko for it adapts its hues and patterns to its environment. For her original creations, Alexandra prefers aluminum dibond whose material offers several color options with lacquered or brushed effects and allows high quality impression of colors on models. Inalterable matter stainless steel and non deformable material, it is possible to expose both indoors and outdoors when adapting the frame for outdoor use.
AL-ART-METAL can adapt to your desires for large framed wall plates.